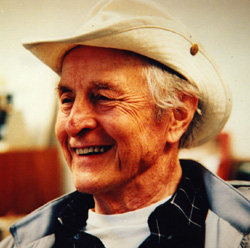 For more than 50 years, Art Clokey had worked with clay to produce works of art that form a catalog of "firsts" in the medium of film. He made the first music video, Gumbasia, in which colored clay shapes moved and transformed to the rhythm of jazz. He was the first to introduce the use of clay models of objects, animals and people in television commercials. He was the first to develop claymation techniques and the first to use them in full length feature films. He invented trimentional animation based on kinesthetic principles, and it became the signature of his career. He is famous for creating Gumby and Davey and Goliath. Gumby head was inspired by an old picture of his father were he had a cowlick that would not go down. He sadly died of natural causes in his home on January 8, 2010.
Ad blocker interference detected!
Wikia is a free-to-use site that makes money from advertising. We have a modified experience for viewers using ad blockers

Wikia is not accessible if you've made further modifications. Remove the custom ad blocker rule(s) and the page will load as expected.