Art Clokey did a full re-imaging of this cartoon in 1967 as part of The Gumby Show. "Grub Grabber Gumby" recast Gumby in Piggy's role. Like Piggy, Gumby has been developing a liking for eating, and he starts the day by eating almost all the cookies on the kitchen table. Then he eats Pokey's sandwich and steals one of the pies Mrs. Applebee left out to cool (as Piggy did at the beginning). With a full stomach, he falls asleep and later awakes to find himself in the clutches of a bipedal equine named "Mr. Stuff". Mr. Stuff: Hee, hee, hee -- so, you're the boy who likes to eat!Gumby: Who are you?Mr. Stuff: Don't worry, just call me Mr. Stuff. I'm going to do you a favor; how'd you like to have all the goodies you can hold?
Like Piggy, Gumby's face lights up with joy at the offer. Mr. Stuff is true to his word, using a conveyor belt to cram thousands of scoops of vanilla ice cream into Gumby's eagerly waiting mouth. After that a tank car of soda pop is brought over and its contents is pumped into his stomach, followed by a large batch of hamburgers. This all leaves it swollen and bloated; However, Mr. Stuff won't quit until Gumby is totally stuffed.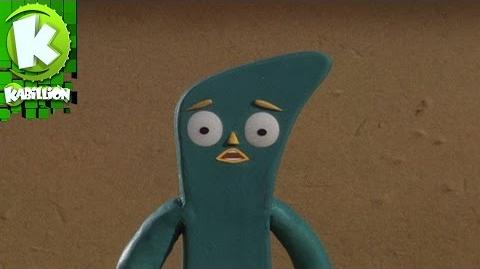 Ad blocker interference detected!
Wikia is a free-to-use site that makes money from advertising. We have a modified experience for viewers using ad blockers

Wikia is not accessible if you've made further modifications. Remove the custom ad blocker rule(s) and the page will load as expected.