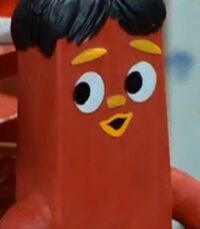 Gumbo is Gumby & Minga's dad and Gumba's husband. He works as a firefighter at the fire department. He is voiced by Dave Wilson.
Description
Gumbo is very tall and skin is the color red. He has black combed hair. His eyes, mouth, nose, and eyebrows are very similar to Gumby's. In many ways, Gumby resembles him.
Characteristics
Gumbo is very proper, polite, well mannered, and very helpful to their son, Gumby. In Gumby On The Moon, Gumbo practically saves Gumby's life. He is strict, but not too strict. With these qualities he is a traditional head of the Gumby family.
External links
Ad blocker interference detected!
Wikia is a free-to-use site that makes money from advertising. We have a modified experience for viewers using ad blockers

Wikia is not accessible if you've made further modifications. Remove the custom ad blocker rule(s) and the page will load as expected.